Uchōten Boys
File:Shonenmaid3boys.jpg
Appearence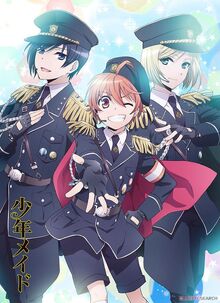 Uchōten Boys is a fictional Idol group consisting of members Ryuji, Ibuki, and Hayato. They sing the ending song of the anime.
There will be a spin-off titled Uchōten Nicosei (有頂天☆ニコ生) that will focus on the fictional Uchōten Boys idol group. The first episode will air on Niconico on March 14 2016 and to be followed by regular episodes beginning on April 11 2016.
Etymology
Edit
Ad blocker interference detected!
Wikia is a free-to-use site that makes money from advertising. We have a modified experience for viewers using ad blockers

Wikia is not accessible if you've made further modifications. Remove the custom ad blocker rule(s) and the page will load as expected.